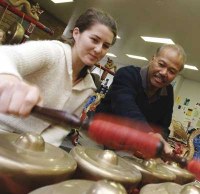 The Melbourne Community Gamelan was founded by Ki Poedijono (1940-2021) from Wonogiri, Central Java. Poedijono was a well-known and highly respected musician, puppeteer, composer and dancer. He was considered a living legend for bringing the cultural richness of Indonesia to the Australian community. Poedijono was awarded an OAM in 1994 for his services to promoting Indonesia culture in Australia.
Poedijono's passion and experience inspired students and community groups in Melbourne for many years. His gamelan groups performed extensively in Melbourne, regional centres and sometimes abroad and he introduced 24 sets of gamelan to Australia.
---
Read an article about MCG musical director and teacher, published in the Jakarta Post 2008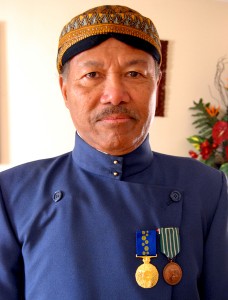 'Poedijono: Honored for doing what he loves',
by  Dewi Anggraeni, Contributor, Melbourne, Australia | Life | Tue, March 04 2008
Early in 2004, Nuim Khaiyath, a senior Radio Australia journalist on assignment in Jakarta, opened a newspaper and read about Ki Poedijono, a well-known Melbourne-based artist being honored by the Australian government with the Medal of the Order of Australia (OAM).
Nuim was overwhelmed with pride. A few moments later however, he recalls, he felt a slight pang of disappointment.
"Poedijono should receive at least an equivalent honor and recognition from the Indonesian government for his untiring work in introducing and promoting important aspects of Indonesian culture to the Australian community," Nuim thought then.
Wahid Supriyadi, Indonesia's Consul General for Victoria and Tasmania in Australia until 2007, must have had a similar idea, because he nominated Poedijono for the Satya Lencana medal.
The suggestion did not fall on deaf ears.
In November 2007, the Indonesian government granted the Satya Lencana medal to the artist, for his sustained dedication to promoting Indonesian arts and culture in Australia.
On Thursday, Feb. 28 this year, Budiarman Bahar, the current consul general for Victoria and Tasmania, pinned the Satya Lencana medal on Ki Poedijono's jacket in a ceremony and reception specially held in Melbourne for the purpose.
To music and performing-art lovers in Melbourne and other cities in Australia, Poedijono is no stranger.
Since 1973 when he arrived to take up a teaching position at Monash University's music department, Poedijono has not really stopped teaching, though in the last few years he has slowed down.
He has organized, directed and starred in numerous performances throughout Australia, especially in Melbourne. It is rare indeed to come across such an all-round performer who excels in each aspect.
Poedijono is not only an accomplished dalang or traditional puppeteer, he is also a fine dancer, singer and player of every instrument in various types of gamelan orchestra.
Poedijono was born in Wonogiri into a performing arts family — his father and uncle being professional dalangs.
By the time he was six years old he already knew the world of wayang performances as well as, if not more than, a modern child of today knows his favorite computer games.
His father would take him to all-night wayang performances where, enchanted, he watched every gesture and listened to each music phrase of the gamelan, regardless of how familiar they all were.
He learned to spot the slightest nuances, and to know what brought these nuances to the surface. He knew which characters would appear in particular acts and would often help hand the appropriate puppets to his father. He learned by mental absorption as well as by cognitive means.
His first full performance was a one-hour act, Mucuki. He was then nine years old. After that he was recognized as a dalang, and increasingly put on longer shows. And he was in charge of all-night performances in Wonogiri when he was 16.
His formal dalang education was taken in the Indonesian Arts School (SMKI) in Surakarta, Central Java, where he studied traditional puppetry and gamelan.
Pandji, the principal of Bali SMKI, spotted him and offered him a position in his school, teaching Javanese music, dances and other performing arts. So Poedijono went to Bali.
Like attracts like. When Poedijono met Merthi, a fine Balinese dancer and teacher of Balinese dances, their fates merged. Their two daughters, Eka and Ade, are also fine dancers.
At the ceremony and reception, Poedijono said he was particularly pleased to see he had helped promote gamelan culture not only at the academic level, but also among communities in Australia.
Poedijono introduced the use of English in wayang performances. More than that, he blended the vernacular into the scenes where comic situations would not come across well in standard English. So we had Semar, Petruk and Gareng speaking vernacular English with some Javanese thrown in. The audience loved it.
When Poedijono arrived in Melbourne, there were only a few sets of gamelan throughout Australia. Now there are almost 50 sets owned by various cultural, educational and private groups. And they are not just for display. With the regular performances now staged in different parts of the country, these sets are actively used.
Gamelan and related performances are now a regular feature at the prestigious National Victorian Arts Gallery in Melbourne, where dedicated groups like Melbourne Community Gamelan, PERMAI, Yarragam and Mahindra Bali play and accompany wayang shows and spectacular dances.
With Australia's OAM and Indonesia's Satya Lencana decorating his jacket, Poedijono deserves to slow down and enjoy his retirement.
"But I am doing what I enjoy doing," he said.
Frankly, is it not everybody's dream, receiving all the honors and recognition for doing what you enjoy?
More articles about Poedijono
http://archive.uninews.unimelb.edu.au/news/3454/index.html>